In My Fabbag October 2015
Heylo Everyone,
Happy Dussehra to all of you 🙂 This month I have received my fabbag on 13th but office was super hectic so I did not get time to edit pics and write this post. But today I took advantage of holiday and finally here I am to share my fabbag with all of you 🙂
About Fabbag:
Fabbag is a Monthly beauty subscription bag which sends you 4 products(few samples and few full sized) every month from different brands. you can read more about them here.
Subscription Plans:
1 month: 699/- INR
3 month: 1599/- INR
6 month: 2999/- INR
12 month: 4999/- INR.
Fabbag October 2015:
The bag this month also matches with festive theme and it is gorgeous bright pink and red ethnic bag. I am going to use it with my ethnic wear soon 🙂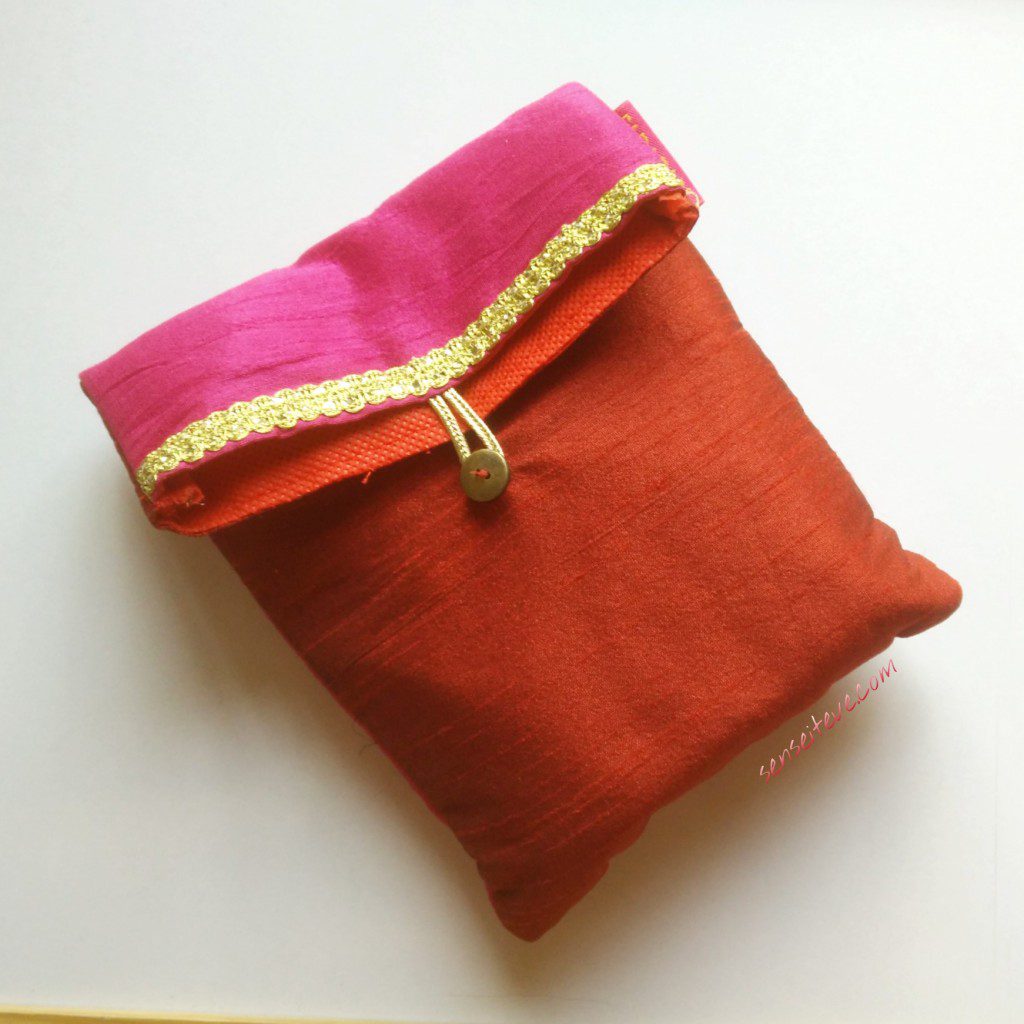 Let's open the bag and see the contents: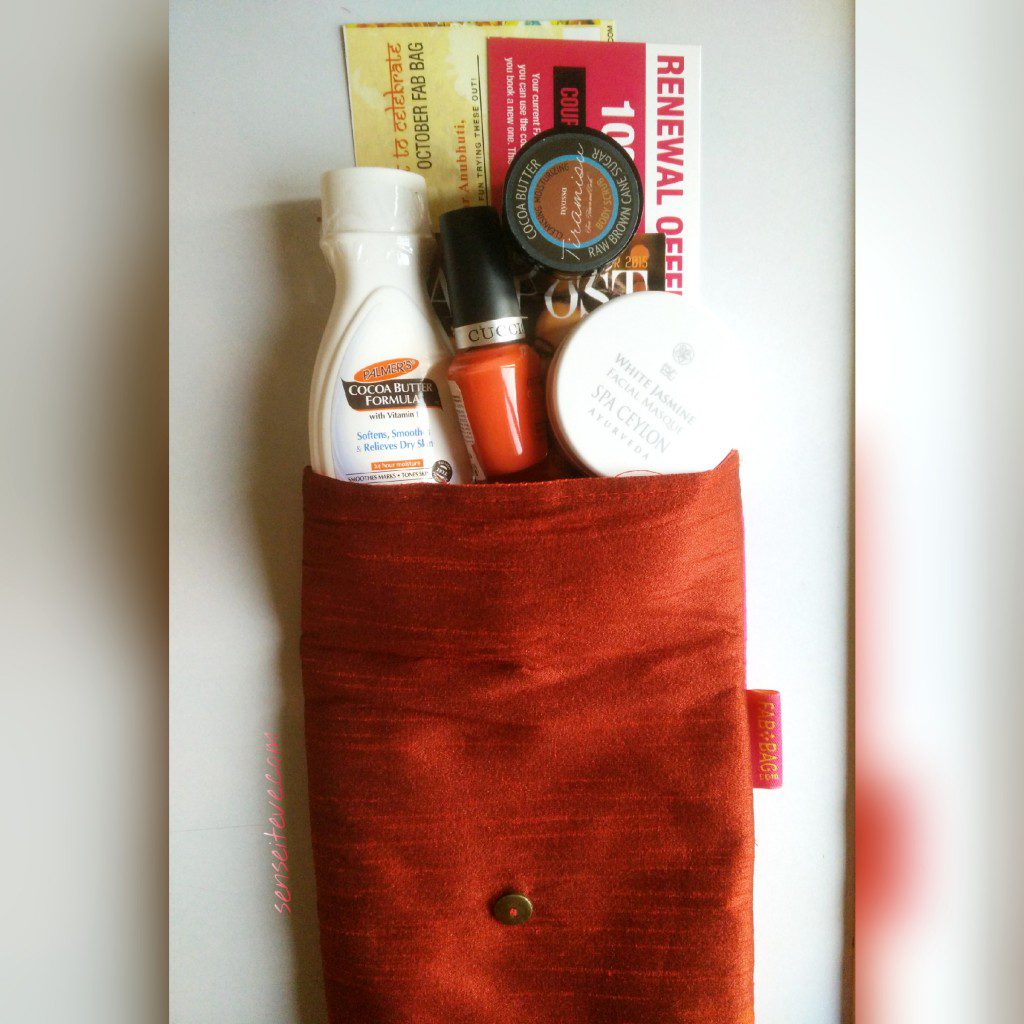 Theme of the Month:
Keeping the festive season in mind fabbag has kept this month's theme as "Get Set to Celebrate". Here is what fabbag says about the theme of the month: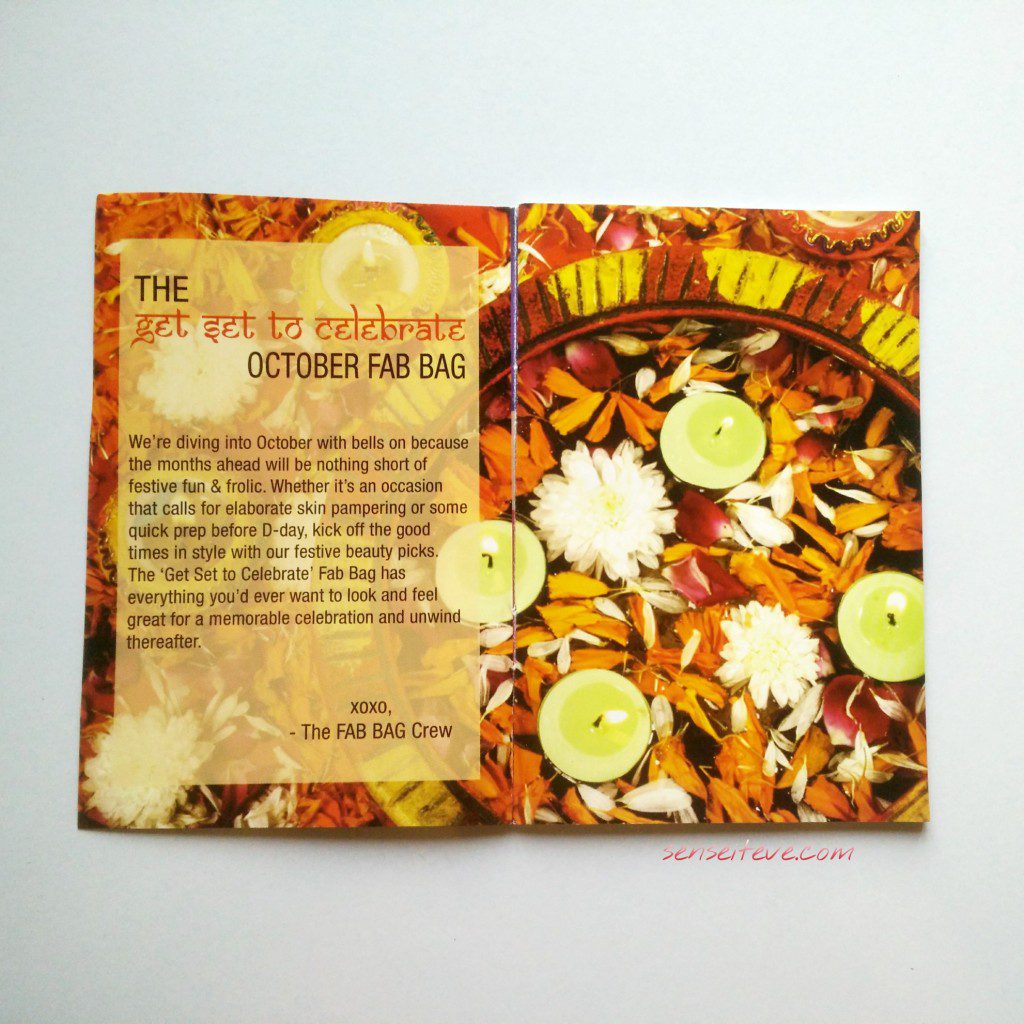 Products in My fabbag October 2015: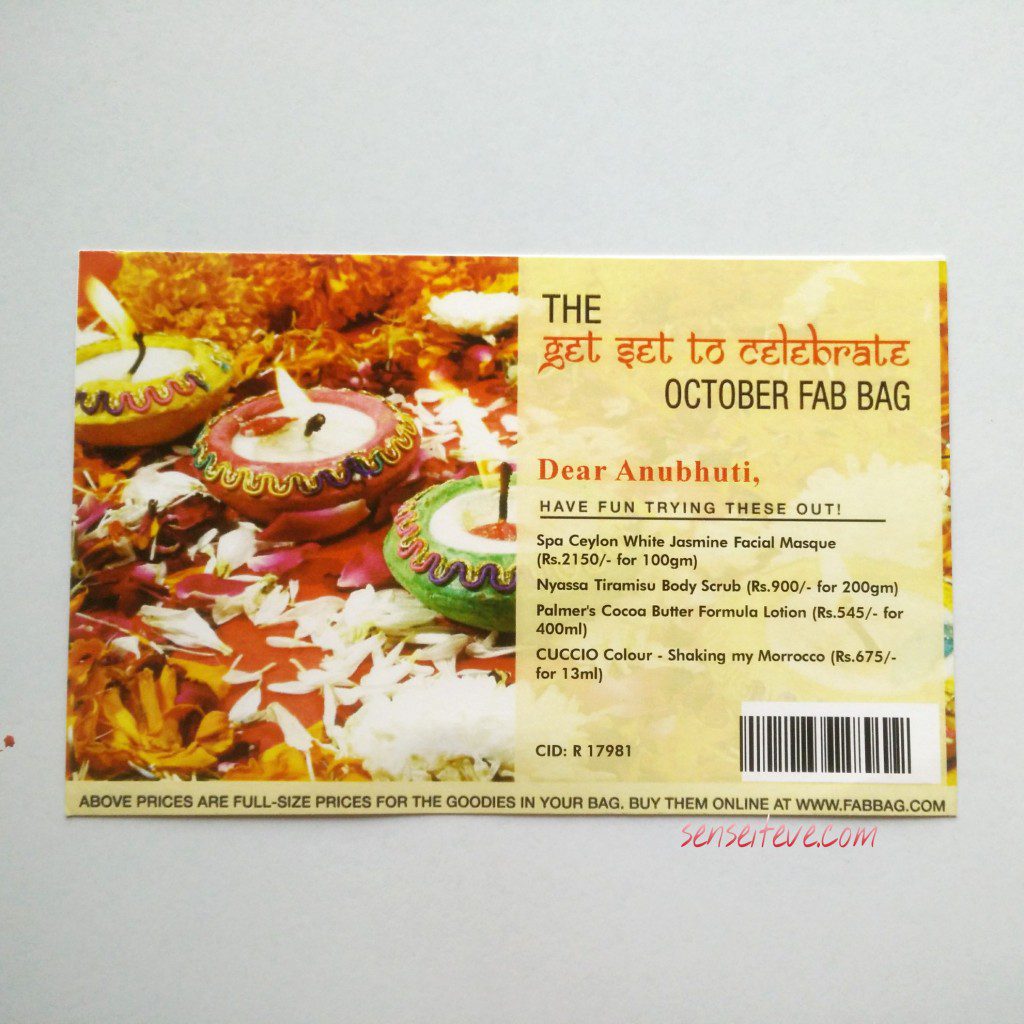 Spa Ceylon White Jasmine Face masque.
Nysaa Tiramisu Body Scrub.
Palmer's Cocoa Butter Formula Lotion.
Cuccio Nailcolor_Shaking My Morrocco.
Lets see in detail about individual products:
1. Spa Ceylon White Jasmine Face masque: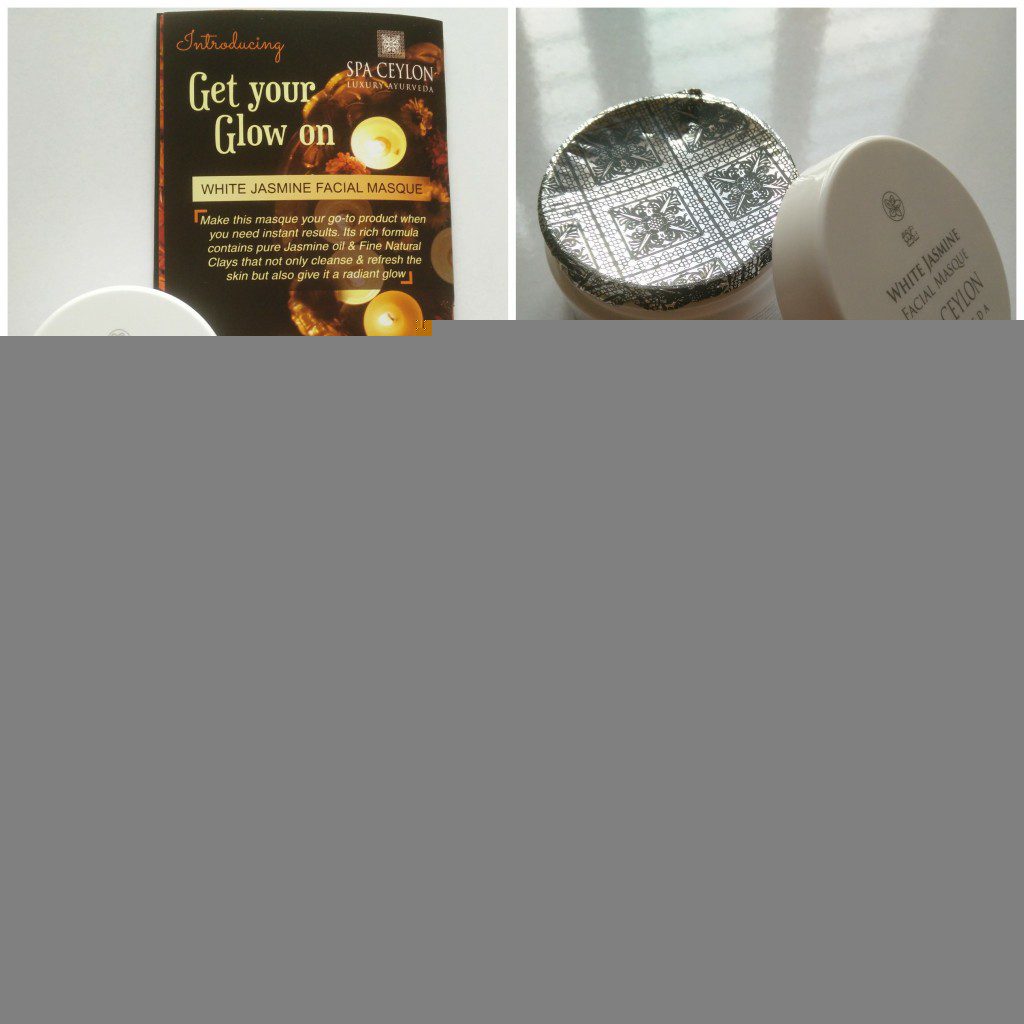 Full sized product is 100gm for 2150/- INR and I have got 50gm sample which is deluxe size for a sample. The masque is looking like a clay masque and smells heavenly. I have not used it yet but it looks nice, will review it soon. However very costly for a masque and for a not so famous brand(Honestly I have never heard of it before) so I will not purchase the full sized product.
2. Nysaa Tiramisu Body Scrub: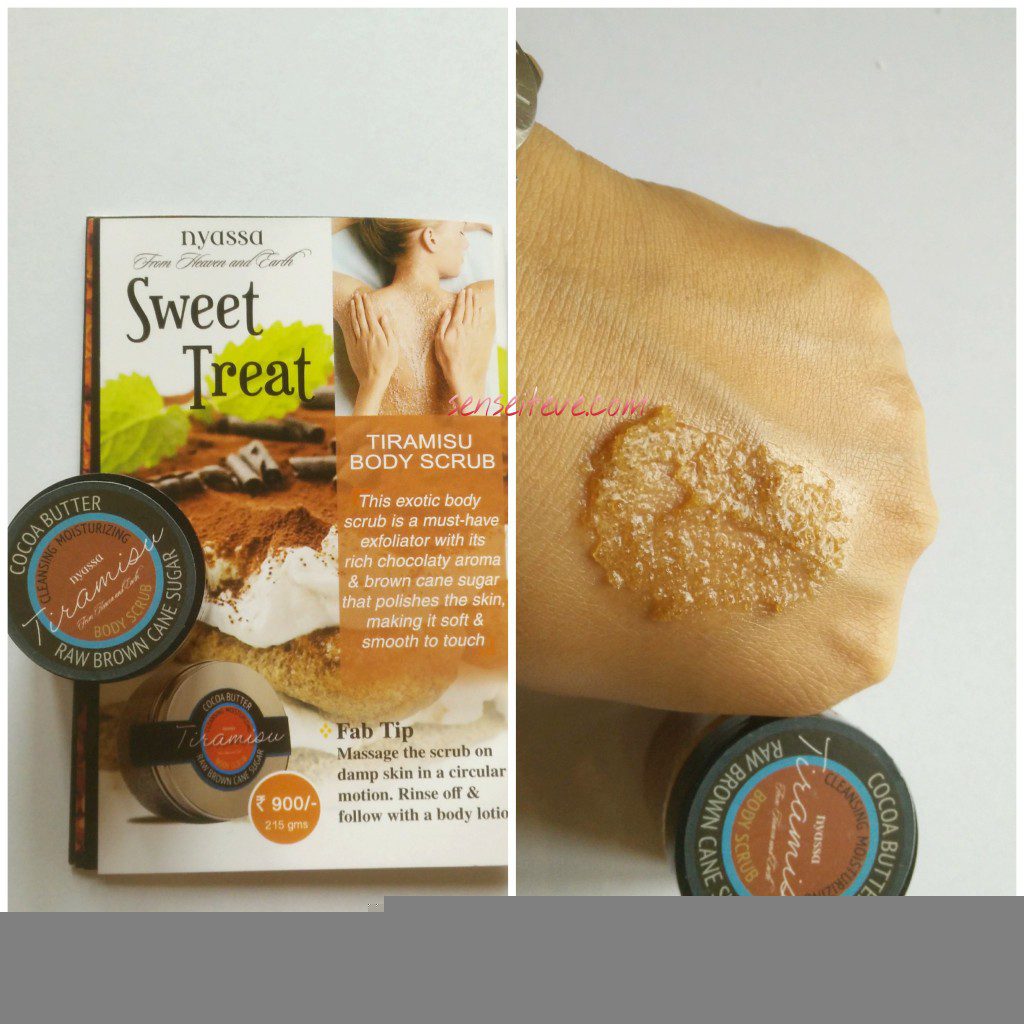 Full sized is 200gm for 900/- INR. I have received 30gm sample which is going to last for 3-4 uses it is not enough quantity to judge product really well but given it is a body scrub, it is still ok. Will review it soon.
3. Palmer's Cocoa Butter Formula Lotion: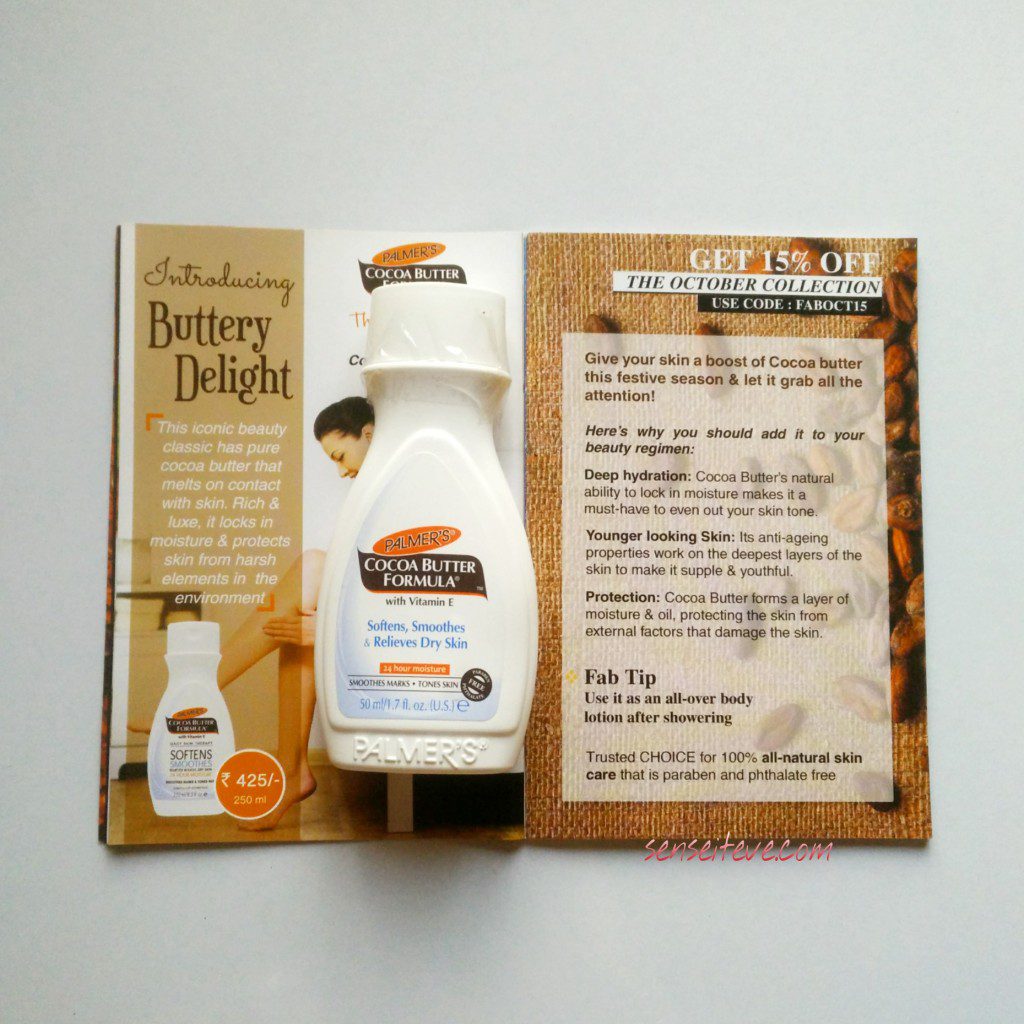 Full sized product is 400ml for 545/- INR. This raved product which was in my wishlist for this winter and I am really happy to get the 50ml sample 🙂 This is going to travel this diwali with me 🙂 And yes without testing I'm buying full sized product.
4. Cuccio Nailcolor_Shaking My Morrocco: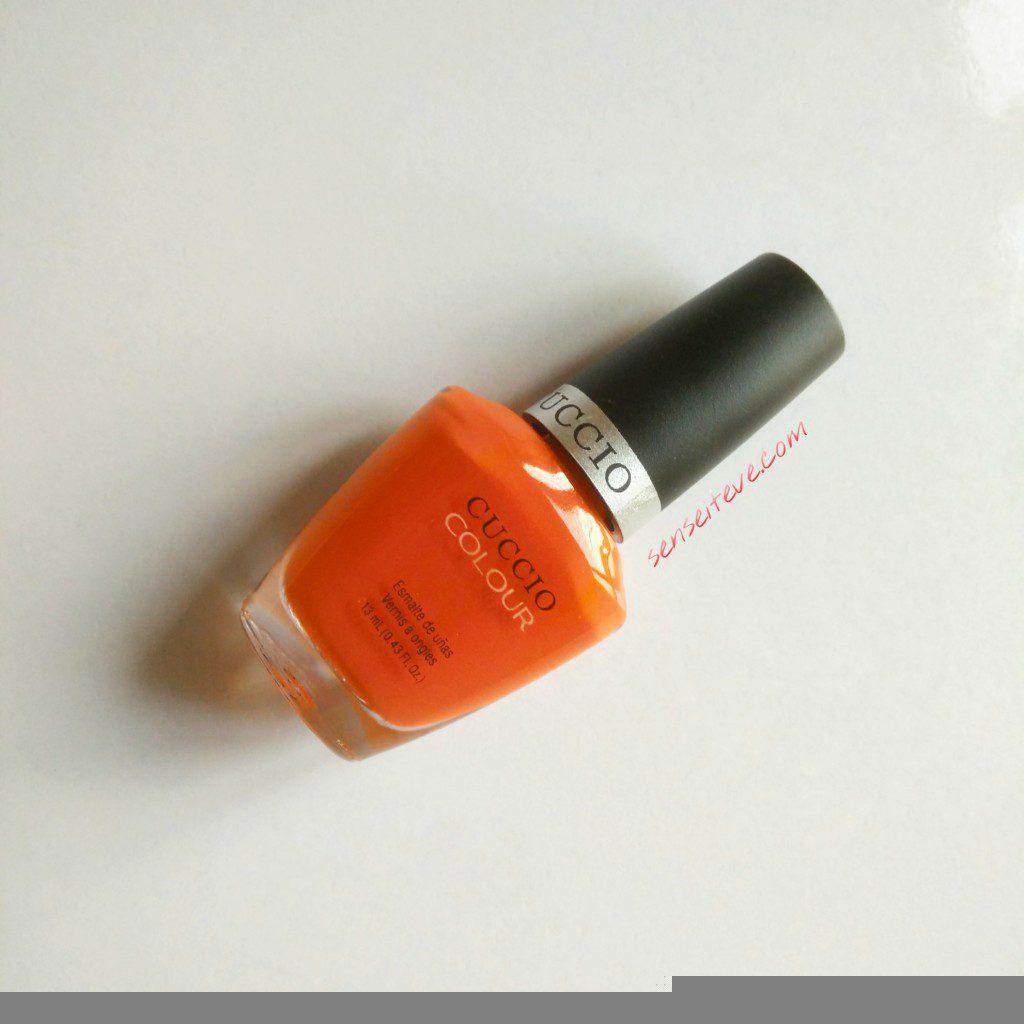 Full sized product is 13ml for 675/- and I got full sized. This month fabbag gave us choice to choose makeup product we want to get in our fabbag. The options provided were not very impressive and I thought this was best pick for me. The color is beautiful coral orange and almost looks similar to Maybelline Colorshow Orange fix.
In fabbag's monthly mini magazine Fabpost this month few pages really caught my eye which have recipe for chocolate scrub and face masque and other DIY tips too: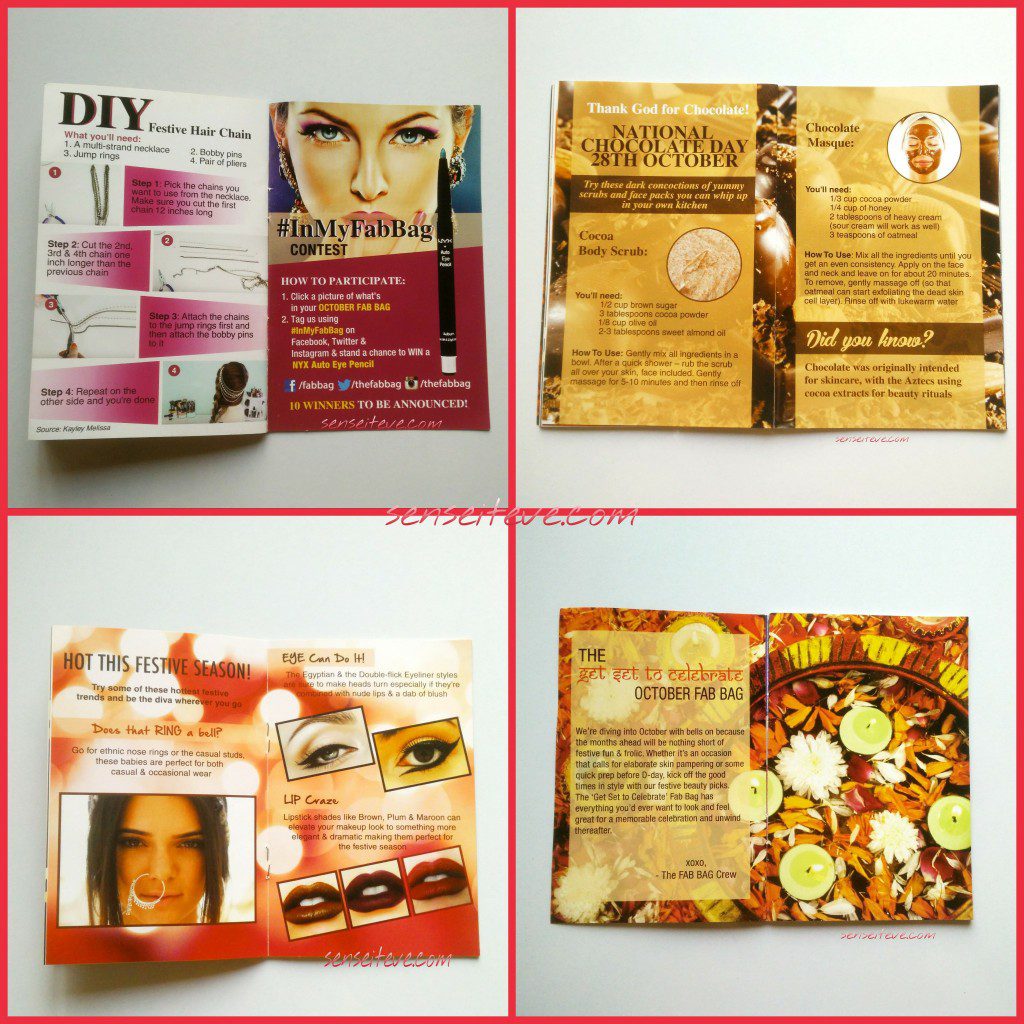 Overall the worth of products this month is around 2000/-INR but I am not very happy with the brands included. Makeup product options to choose from were also not impressive. I expect few well known brand samples and products in my fabbag. The bag is gorgeous but other than Palmer's cocoa butter lotion I won't be purchasing any product full size. The nailpaint is already full-sized but very costly. This month's bag is okayish for me.
What do you think of fabbag october 2015? Which products you received in your fabbag? Drop your comments in comment section below.
Till next time…take care…xoxo