In My Fabbag June 2015
Hello Everyone,
How is your week going so far? Mine is going great. I'm super excited as I'm going to my mommyland tomorrow, yuhooo!!! 😀 Today here I am with my fabbag for June 2015. I have subscribed for 3 month plan of fabbag. They have monthly, 3-month, 6-month and 1-year subscription options. for more information you can visit their site.
This month bag is small dark violet colored ombre pouch with tucked-in corner design(If you getting what I mean 😐 ). I loved the pouch, it is perfect for carrying your lippies or eyeliners 🙂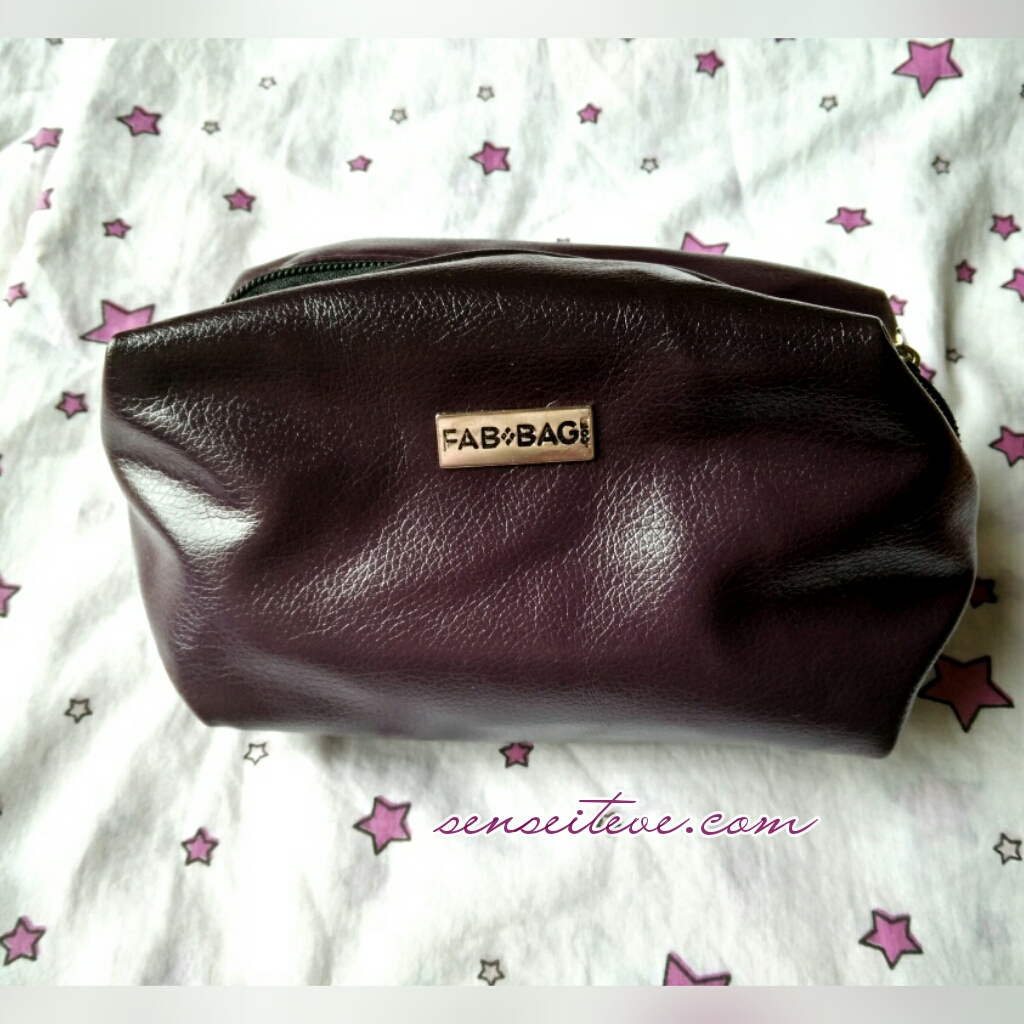 I am always excited whenever I get my fabbag every month, It is like a surprise gift to myself 😛 So here is first look of my bag with lots of goodies: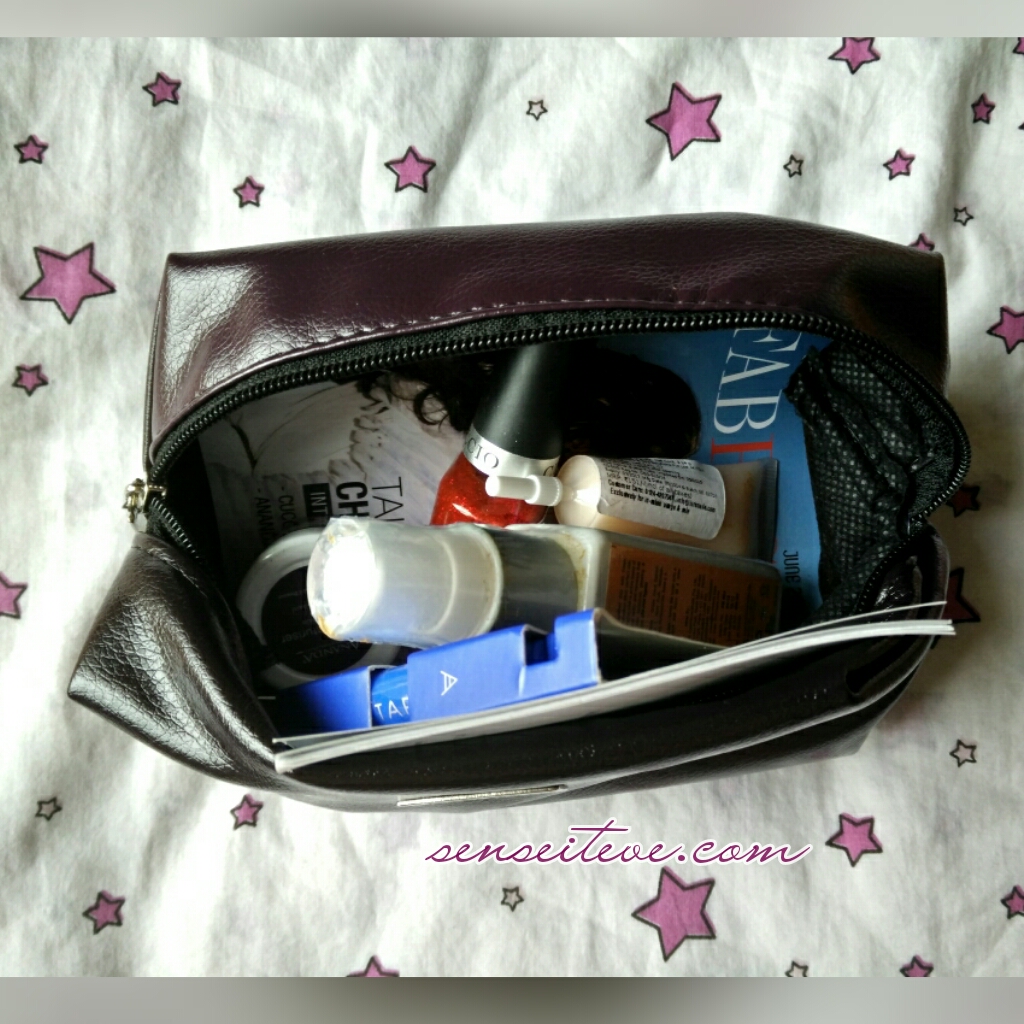 The theme of this month's bag is "take charge". Here is what fabbag team have to say about it: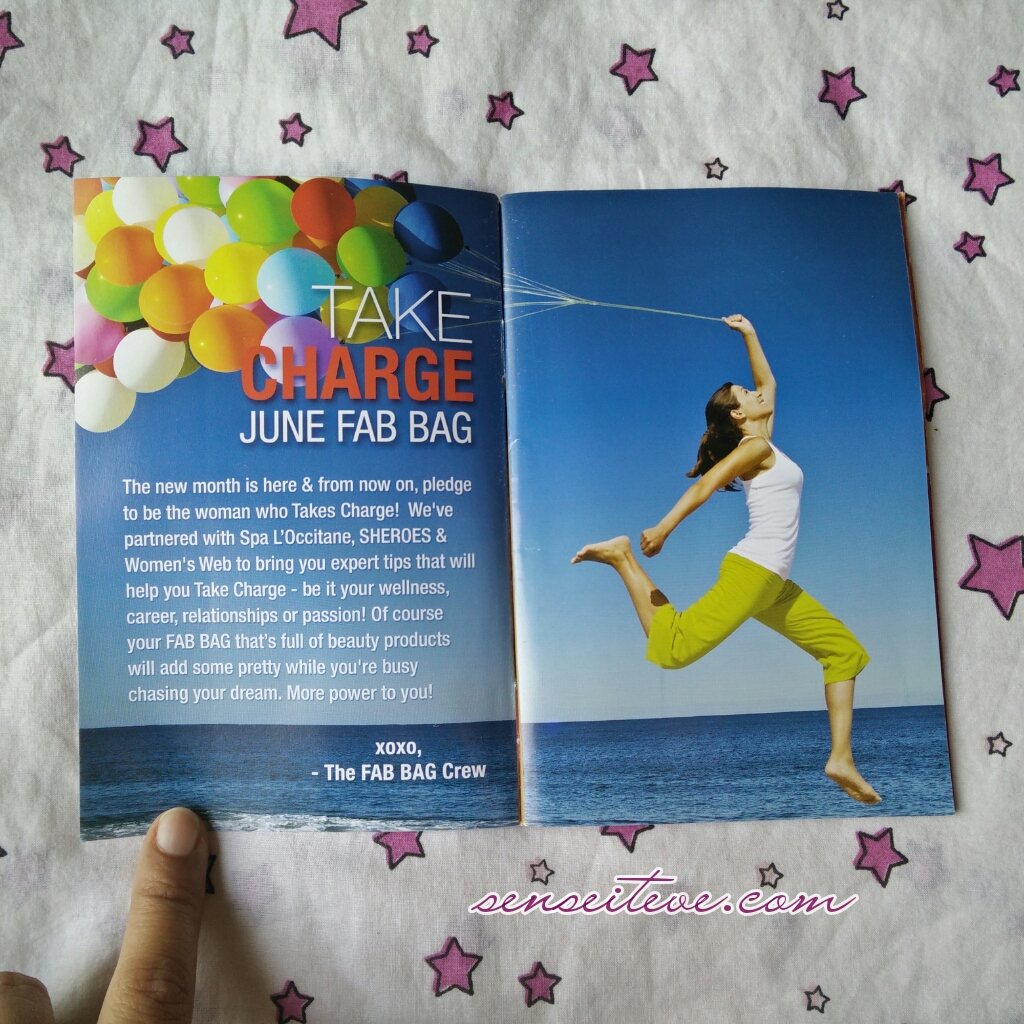 Like always there was a personalized card with a message and list of products in my fabbag june 2015.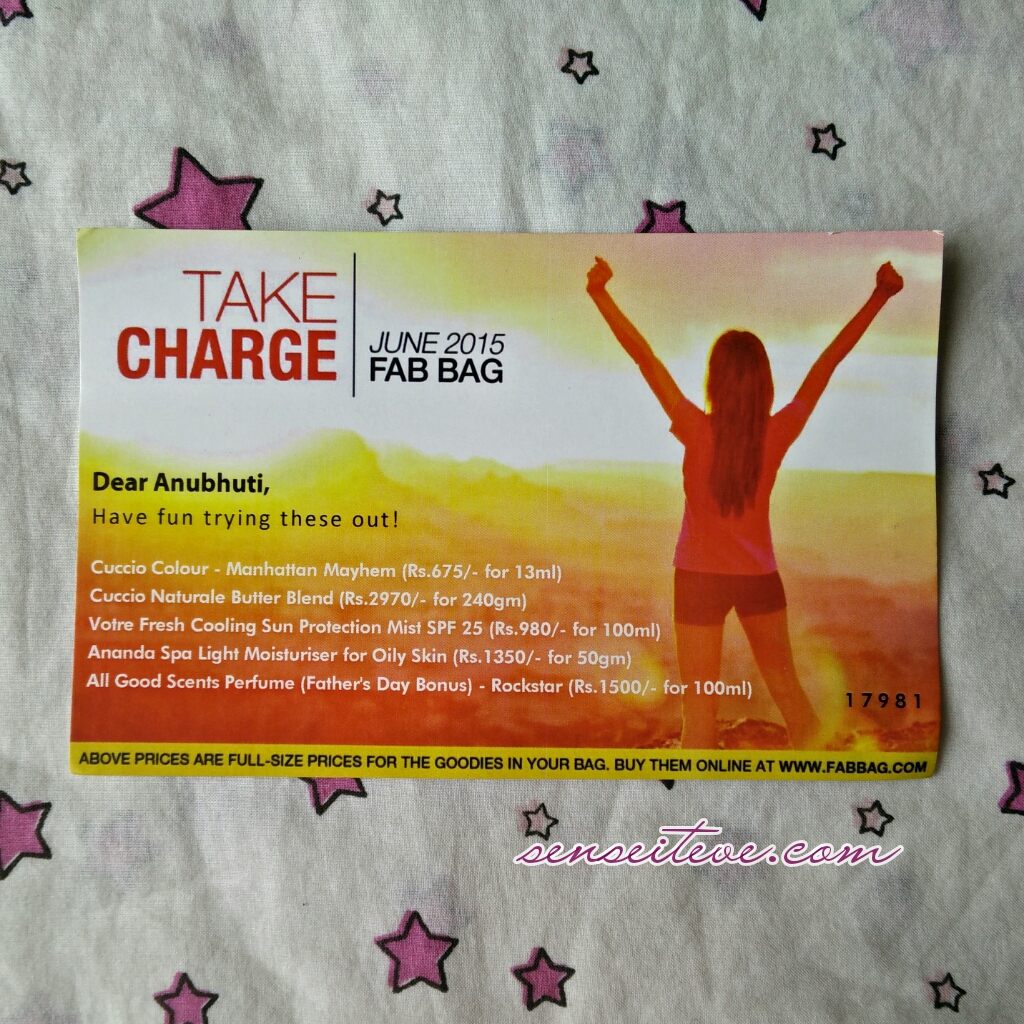 Here is what all I got in my fabbag june2015 🙂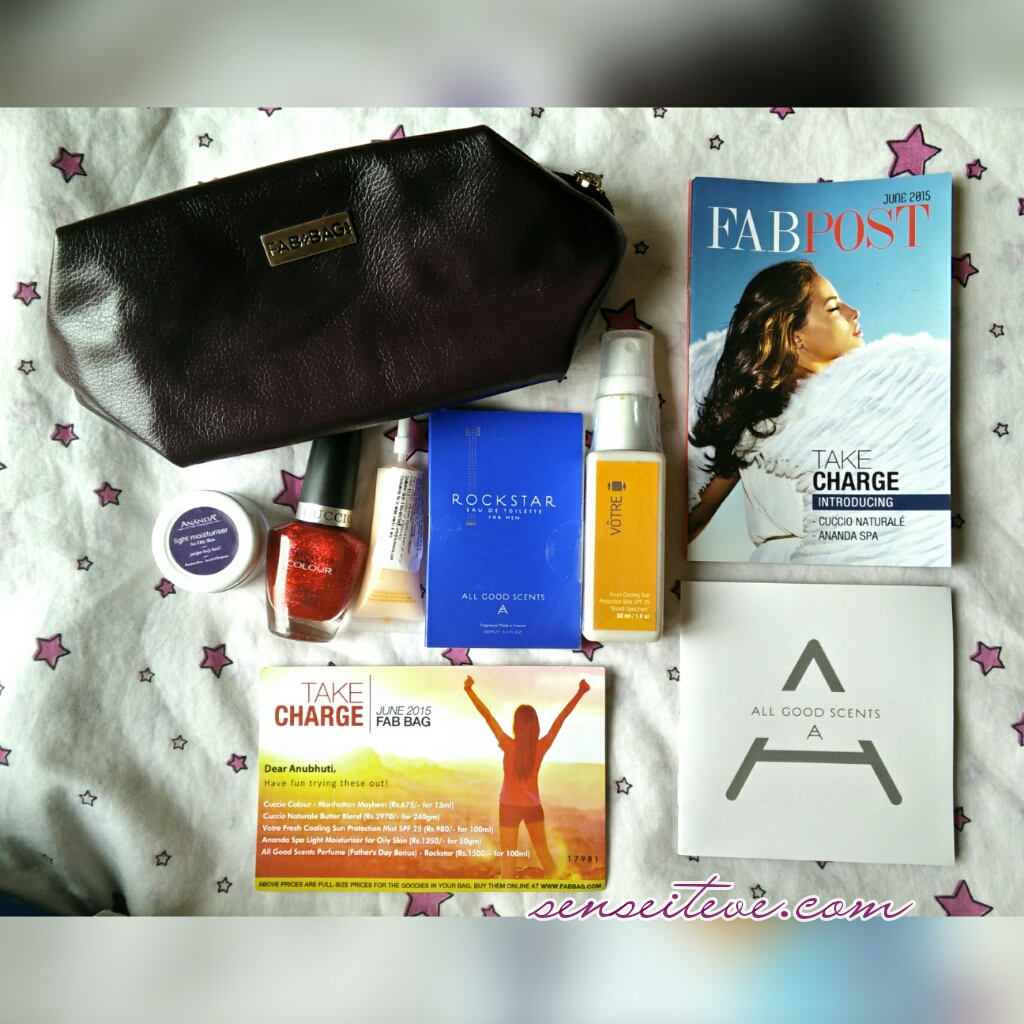 Let's take an individual look at the products 🙂
1. Cuccio Nail color – Manhattan Mayhem:
It is glittery blood red nailpaint, I don't have this color in glitter so I'm happy to get a full sized 13ml bottle which has MRP of 675/- INR.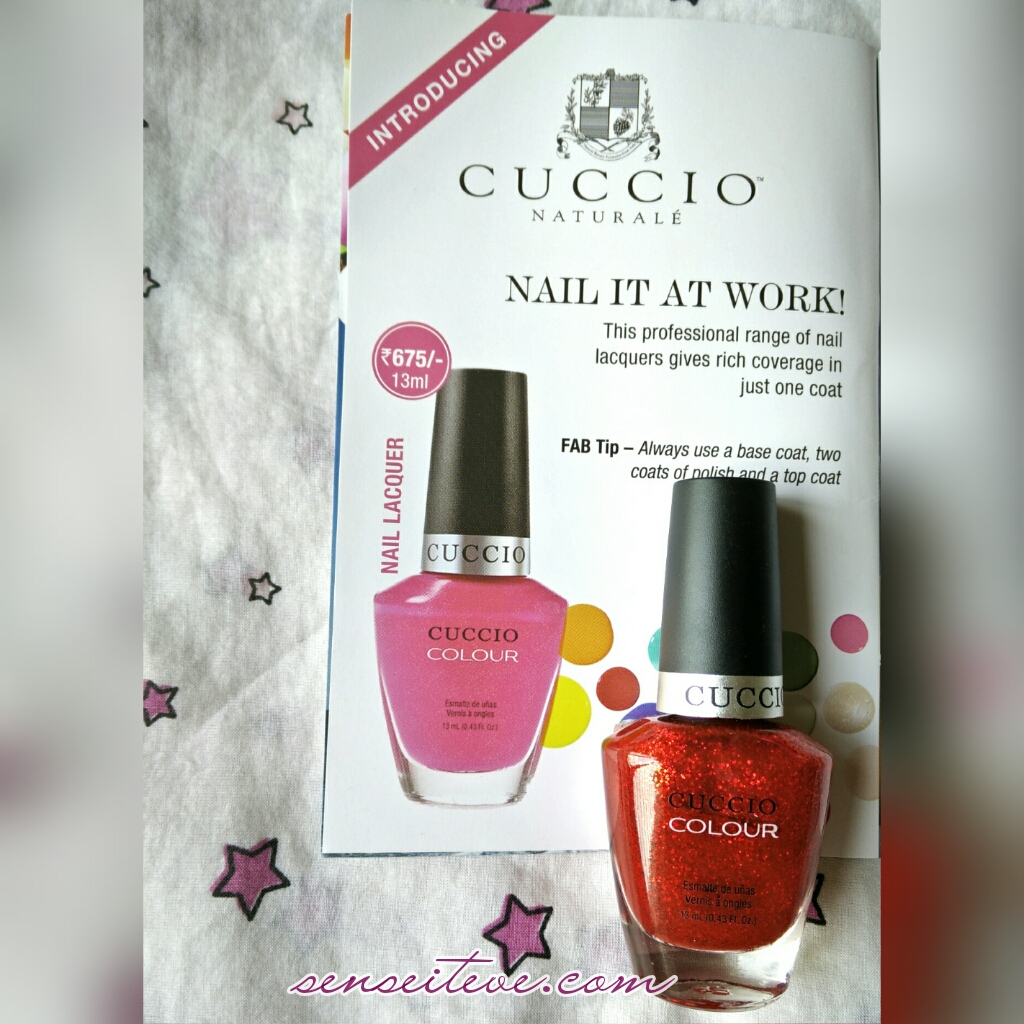 2. Cuccio Naturale butter blend-Papaya & Guava:
This is sample of 9.2gm which is very small sample to judge a body butter. It is a multipurpose butter which can be used as hand, feet and body butter. I wish sample was a little bigger. Full sized product is 240gm for 2970/- INR(I won't dare to buy it, no matter how good it is).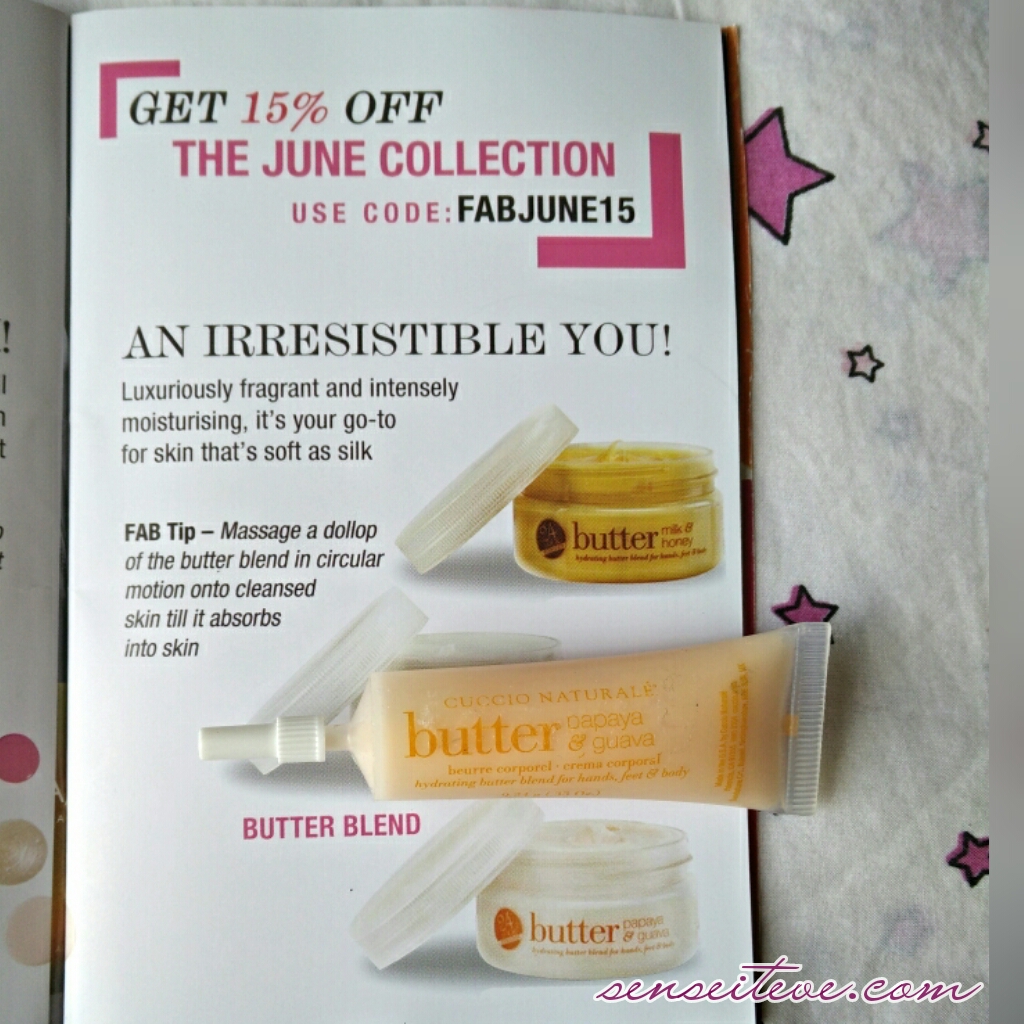 3. Votre Fresh Colling Sun Protection Mist SPF 25:
I got half-sized bottle i.e. 50ml as sample 🙂 At first I thought it is a sunscreen but when I read Directions to use then I was surprised to know that it is a toner, Yeah! a toner with SPF 25!!! interesting no 🙂 I love votre products and recently did a haul so I am happy to get this product. I have already started using it, stay tuned so review. Full sized is 100ml for 980/- INR.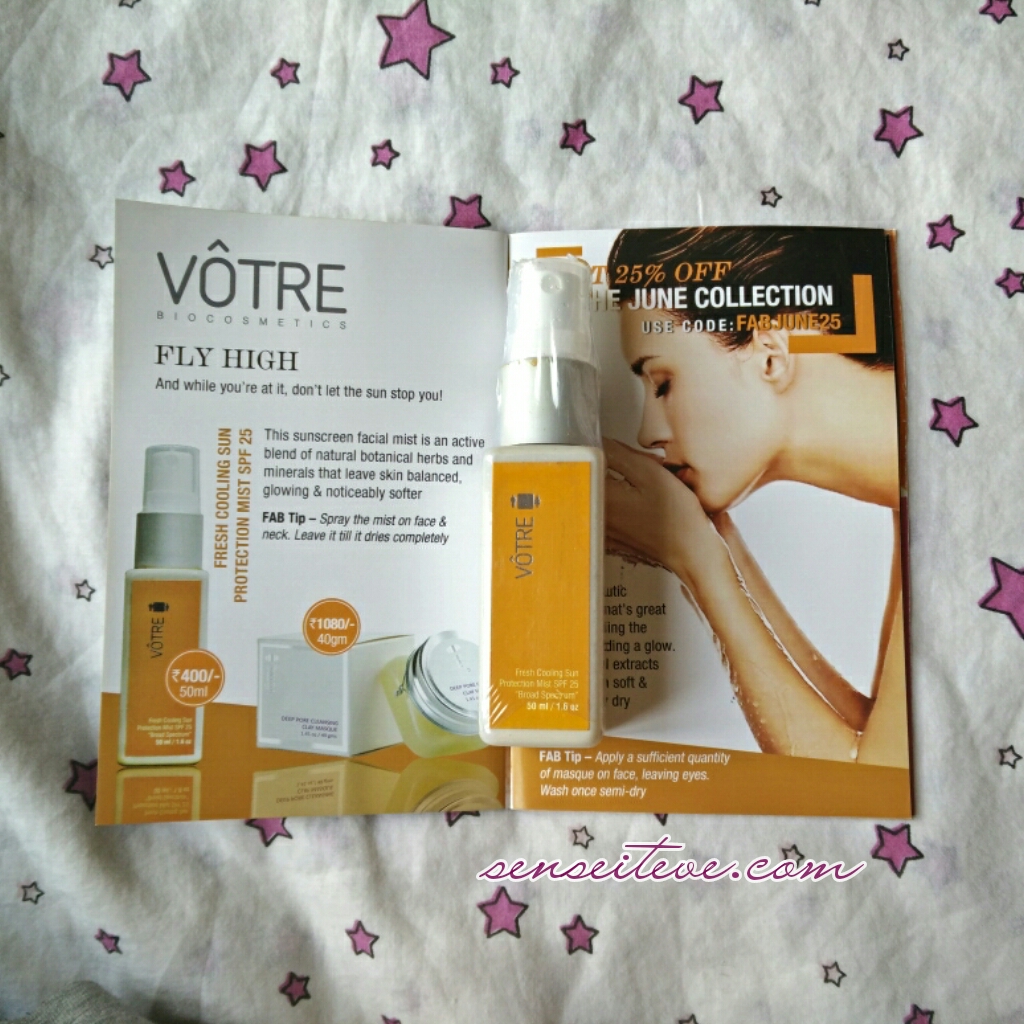 4. Ananda Spa Light Moisturizer for oily skin:
It is a sample size product which will last me around 10 usage but i am happy to get this one as it is specifically for oily skin and I have been searching for a good moisturizer for my combination skin. It has a very light texture so I hope I can find my HG moisturizer in it. Full sized product is 50gm for 1350/- INR.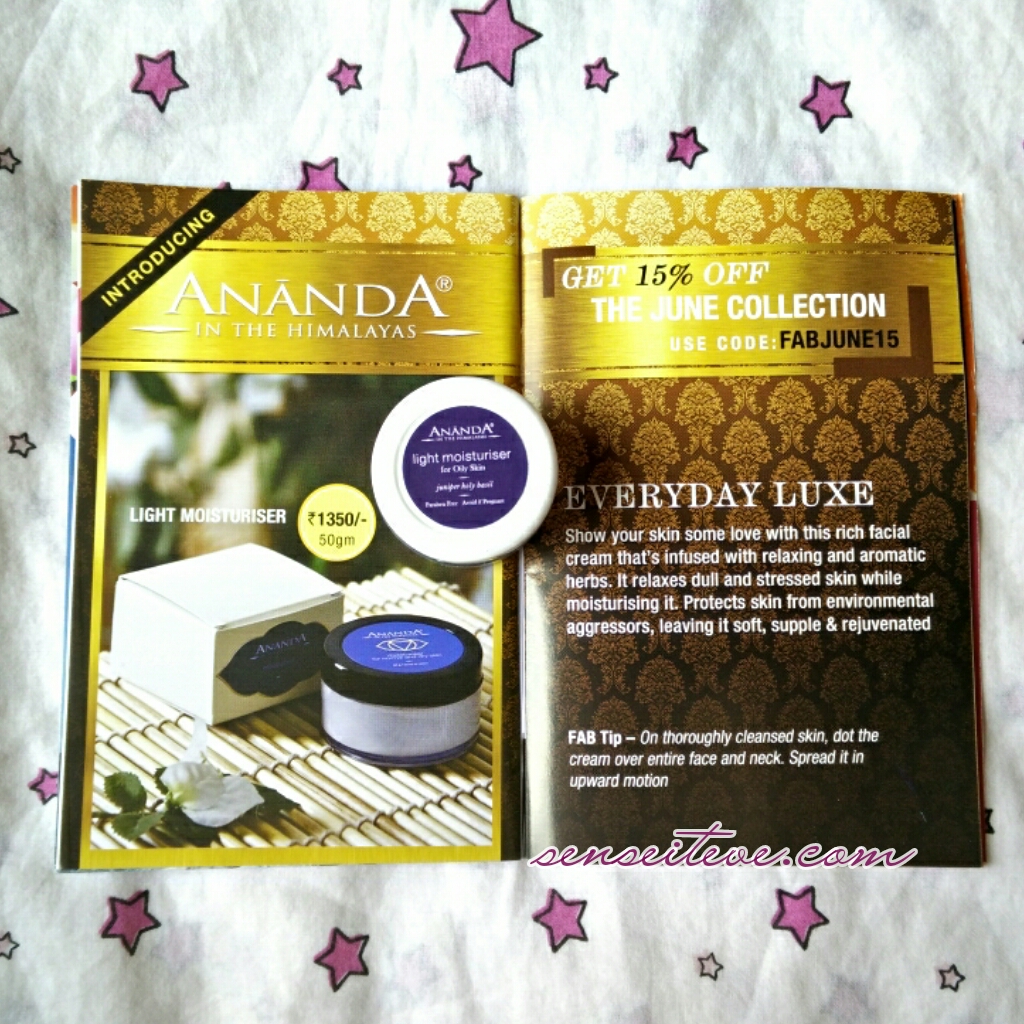 5. All Good Scents Men's Perfume – Rockstar(Father's Day Special):
This is a small 1 ml sample of men's perfume by All Good Scents which is a father's day special inclusion in bag. I liked the spicy notes it has and I have given it to my hubby to know his views on it 🙂 Full sized product is 100ml for 1500/- INR.
I have got one sample of All good scents "Love & Joy" women's perfume in my MSM box and i like it and got full size for myself.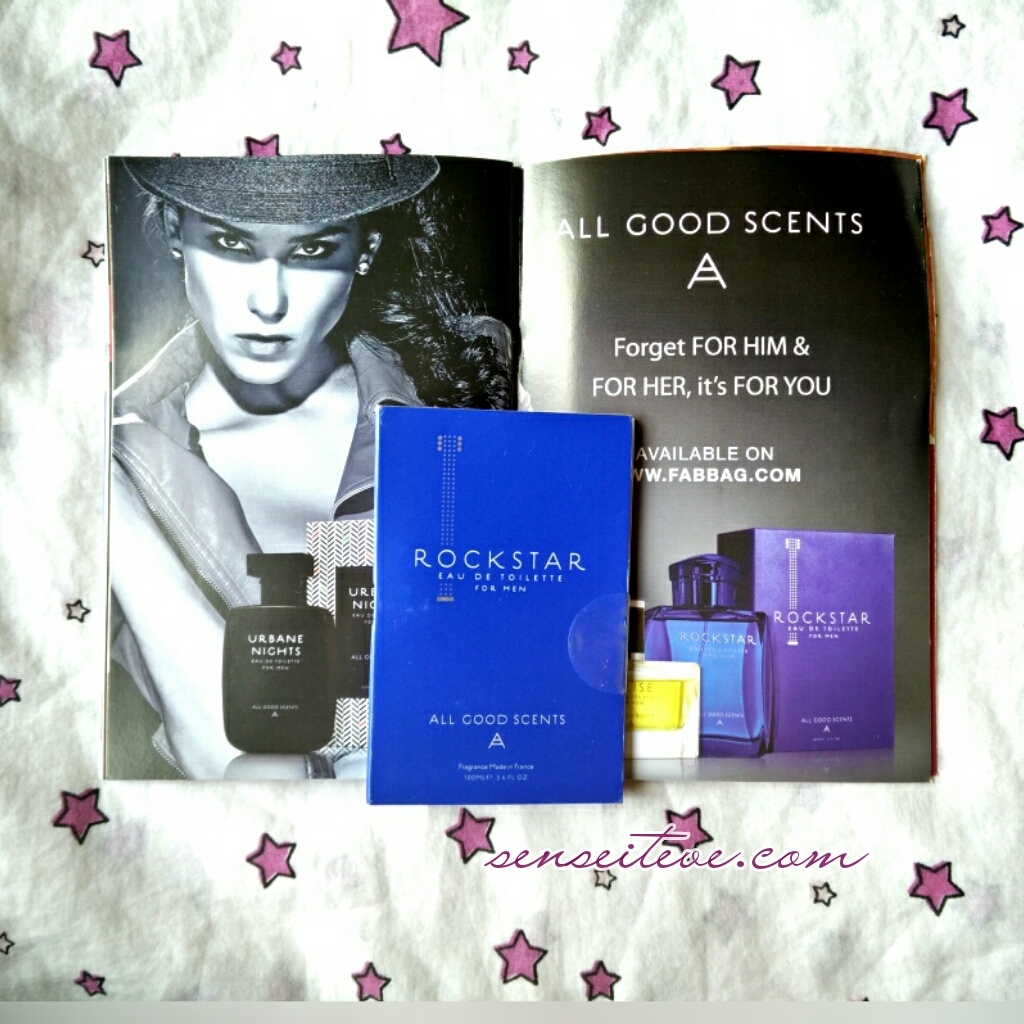 As usual there is one mini magazine Fabpost included in bag which has product descriptions, fabtips to use them and some awesome discounts and ideas.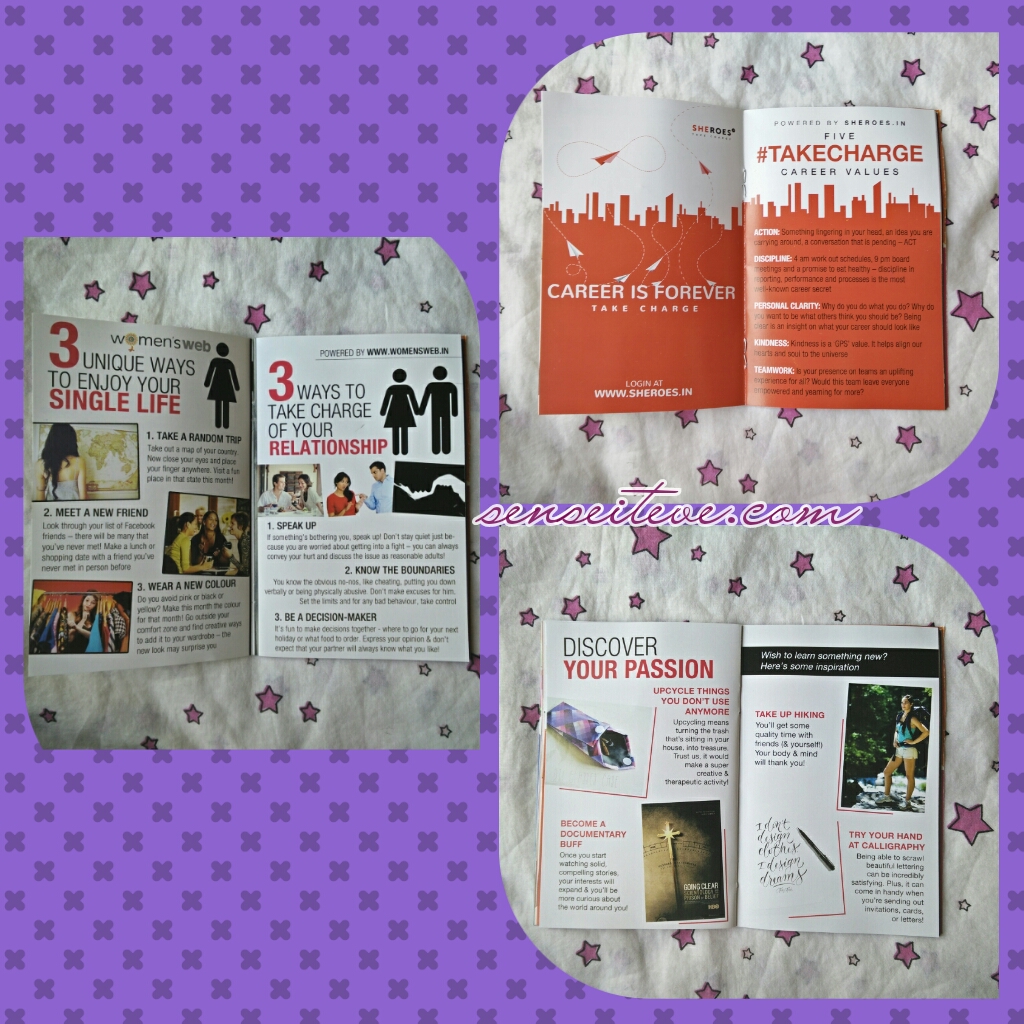 Here is one spa voucher by Loccitane which is quite useless for me given there is no center in Pune. But I loved the detox tips by Loccitane included in fab magazine FabPost.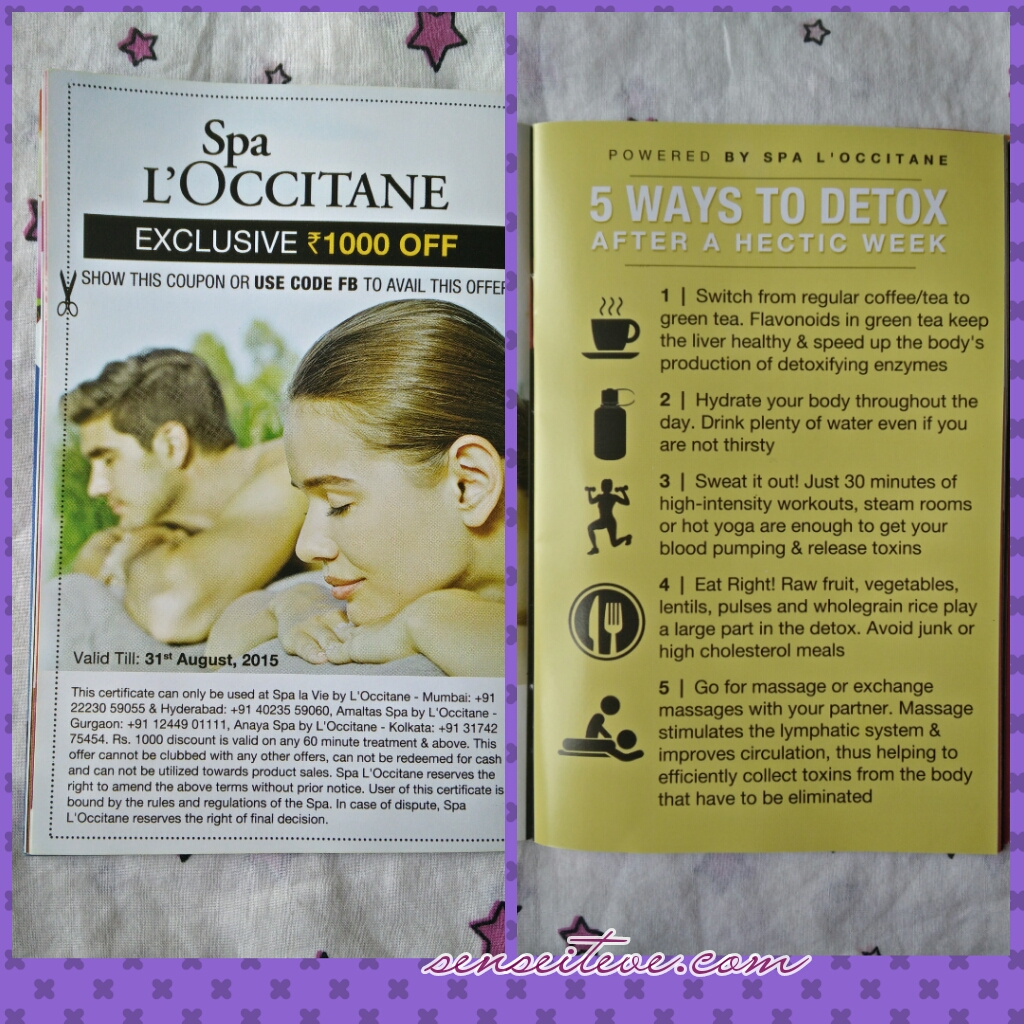 This month brand introduced are Cuccio and Ananda, so there are 2 products(Nailpaint and body butter) by brand Cuccio, 1 moisturizer for oily skin by Ananda, 1 product by Votre, 1 men's perfume Sample by All Good Scents. Overall I am not very happy with my this month's bag. There are 3 samples, one half-sized product and only one full sized product and that too a nailpaint Seriously!!!!! fabbag! you can do better than this. Anyways I have got few good products in my april and may fabbag so it's ok. I have 1 month subscription left, Just hoping i get good products in july bag.
So Ladies! have you subscribed for fabbag? would you give it a try? What did you get in your fabbag in june 2015?
Drop your comments in comment section below. Love to hear from you all.
Till next time..take care..xoxo.