Matrix Biolage Fortetherapie Fortifying Shampoo Review
Hello all,
I hope you all are doing great. Today's post is not only for girls but also for guys 🙂 I have very long hair which I wash every 3rd day (really washing long hair is a task 🙁 ) but anyways you can't avoid it else people will stop sitting next to you 😀 But oiling hair every time I wash them is not possible especially on weekdays. I do oil my hair once a week. But when I'm washing my hair bare (without oil shield), I prefer to use a rather mild shampoo and a rebalancing and fortifying sort of shampoo which can minimize the damage and also add moisture to hair. So in this quest I keep experimenting with shampoos and try to go with trustworthy names most of the times. Here is Matrix Biolage Fortetherapie Fortifying Shampoo which was a result of this quest.
Read on to find out how it performed in its test.
Product Description:
Treat chemically stressed or weak hair with Matrix Biolage Fortetherapie Strengthening shampoo. Employing cerafusion technology, this Matrix Fortifying Shampoo strengthens the hair, making it healthy. Formulated with concentrated ceramide, this Hair care product smoothens hair locks, making them manageable. Mild on your strands, Lemongrass present In this Matrix Fortifying Shampoo gently cleans your hair, giving it a silky shine. Consisting of mango pressed butter, this Hair care shampoo, conditions the hair keeping it hydrated. Prevent hair breakage and get strong and healthy hair with the Matrix Biolage Fortetherapie Strengthening shampoo.
Product Claims:
Biolage Fortetherapie strengthens and helps reconstruct damaged, chemically-treated or coarse hair
Enriched with VitaForse Technology, a restorative fusion of Ceramide, Bamboo and Mango Seed Oil
Fortifies hair's inner cuticle and helps defend against future breakage
Leaves hair stregthened, shiny and resilient with a smooth, soft finish
Biolage Fortifying Conditioner strengthens, moisturizes and helps detangle damaged, chemically-treated or coarse hair
Provides internal cuticle strengthening and resiliency to help resist against future damage and breakage
Hair is strengthened, smooth, soft and shiny/
Ideal for chemically treated, damaged hair.
Ingredients:

How to use:
Matrix Biolage Strengthening Shampoo, massage into wet hair. Leave 1-3 minutes. In case of contact with eyes rinse immediately.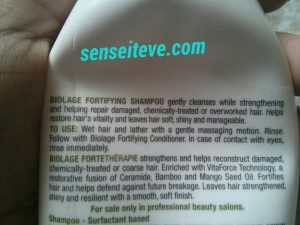 Price & Shelf Life:
Rs 190 for 200ml, 36 months from Mfd.
My Experience with the product:
Packaging:
Shampoo comes in a white bottle with green colored graphics on it. Packaging gives quite simple and herbal look to it. It is travel friendly bottle but still I keep it in zip-lock just in case.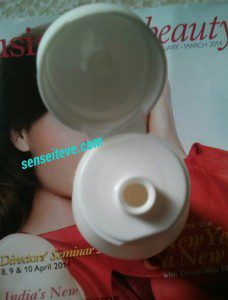 Texture & Color:
Shampoo is very creamy pearly white colored liquid which has medium consistency, neither  very thick nor runny.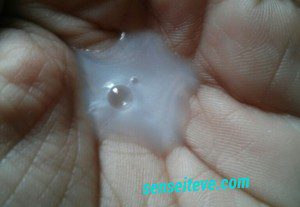 Product Experience:
I don't have any chemical treated hair but when I moved to Mysore my hair started becoming dull and rough due to hard water. Then one of my guy friends suggested that salon person suggested this to him, and he finds it quite effective.
I didn't give a second thought as I knew Matrix is a very raved brand abroad. So I bought the whole Fortifying range pack including Shampoo, conditioner and serum. And trust me I'm not over exaggerating that my hair started to feel lively again. I have used it for almost 6-7 months then again I changed my city to Chennai and so did my shampoo because in Chennai Matrix availability was an issue.
Then when I moved to pune I again purchased it from some local cosmetics shop "Beauty centre" but after using for 4-5 washes I knew that I didn't get the original product, it was duplicate and then I did my research and found out that matrix dupes are easily available in north india as well as pune/Mumbai (just like MAC and Maybelline colossol dupes at road side markets). Next time I purchased it from a salon and I noticed the difference.
When I use it without oiling my hair then too my hair feel very soft just after rinsing and sometimes I skip conditioner and use serum after wash and still my hair feel touchably smooth. It does not control the frizz but if you use it with conditioner and serum from same range then after regular usage it does control frizz and rehydrate and rebalance your hair.
But when I oil my hair with thick consistency oils then I need a lot more quantity to wash my hair.
Overall I love this shampoo and I always keep coming back to this. And I use it in summers when I need to wash my hair very frequently with oiling them.
Pros:
Majority claims are true.
Does frizz control if used regularly with conditioner and serum from same range.
You can feel the difference from very first wash.
Keeps hair smooth, shiny and detangled.
Does not make hair dry or greasy.
Did not cause any extra hair fall
Effectively cleans hair and get rinsed off easily.
Contains Salicylic acid so very good for scalp.
Does not build up on hair.
Have very mild pleasant fragrance which lingers a while.
Sturdy travel friendly packaging.
Reasonably priced and available at most of the salons.
Cons:
Dupes are available in market (Please buy from trusted salons only).
For well-oiled hair the quantity required for a wash is almost double.(Not really a con but still.)
Does not control frizz effectively.
Contains SLS and Parabens.
Rating:
4/5(-ve for SLS, parabens and quantity required for removing oil)
Will I repurchase it?
Absolutely yes. I already repurchased it several times.
Do I recommend it?
Yes definitely. Do give it a try. It's a nice shampoo if you wash your hair very frequently.
This was all about my all-time pick up shampoo. Have you used it?  Share your views on it.