You love your hair! Your hair loves papaya! Let's play cupid, shall we?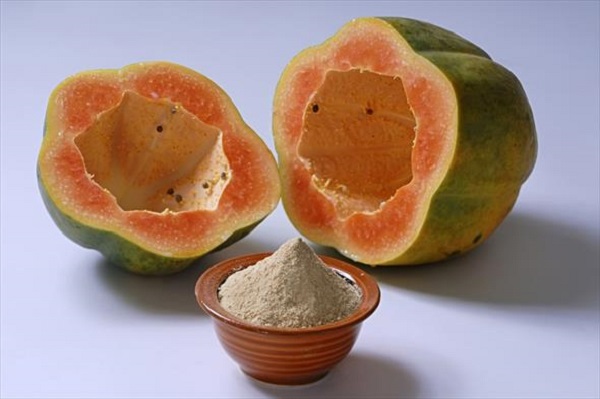 The simple fruit, papaya, has loads, and I mean truck loads, of amazing benefits for your skin and hair. But today, we will only talk about the benefits of papaya for hair growth and other myriad ways it can help you get a rich and silky mane.
The papaya is filled with vitamins, enzymes and minerals, everything that will make your hair salivate. Just a weekly dose of this fruit can leave your hair that is oh-so soft and manageable. The amazing fruit is also your go-to-remedy for removing chemical and product build-up. When used as conditioner, it flushes out dirt and oils, leaving you with squeaky clean hair and scalp.
Some salons are already aware of papaya leaf benefits and use the extract as a conditioner to give a shot of life to lustreless hair. Why don't you too?
We love the papaya because it is not snobbish and easily available throughout the year. And it is really affordable. So stop making those excuses and learn how to make a papaya extract hair mask from us.
#1 Papaya for split ends:
Split ends driving you nuts? Try this papaya mask.
Chop up half a ripe papaya into small pieces.
Add the pieces, ¼ cup olive oil and ½ tablespoon honey to a blender.
Run the blender to make a fine paste.
Cover your hair from the roots to the tips with this mask.
Let it stay for 1-2 hours before washing it out with a nourishing shampoo like Pantene Pro-V or TBS banana.
Don't forget to condition.
#2 Papaya for weak, dull hair:
Weather, stress and neglect can cause hair to lose its sheen. Use this mask made from papaya extract for hair that shines with health.
Cut a ripe papaya into small pieces.
Toss the papaya pieces, some coconut milk and a teaspoon of honey in a blender. If you can not find coconut milk use raw coconut.
Go whirr until it forms a rich thick paste.
Apply this yummy mix to your hair and leave it on for at least half an hour.
Wash it off thoroughly.
Repeat this mask regularly.
#3 Papaya for damaged hair:
Damage is not always avoidable, given our lifestyle. But, thankfully, it is reversible.
Chop a ripe papaya into small pieces.
Put the pieces, along with a teaspoon of olive oil, in a blender.
To the fine blend add two tablespoons coconut oil.
Cover your hair with this mask and keep it on for 30 minutes.
Wash your hair thoroughly, using a nourishing shampoo like Pantene Pro-V.
#4 Papaya leaves as conditioner:
Many commercially available shampoos contain extracts of papaya. You too can use papaya leaves for hair conditioning and get the same, if not better, result at home.
Boil papaya leaves in water for 5-10 minutes.
Let the leaves soak for an hour.
Strain the water and let it cool.
When washing your hair, add some coconut milk and honey to the water and use it as a conditioner.
Your reward for the effort you took will be softer, shinier hair with manageable frizz.
Do you know any more papaya hair mask ideas? Let us know, so we can share them with other women who are in trouble.
Also, learn how to use papaya for skin with these 10 amazing tips and tricks by Reward Me. Find more hair care tips and other lifestyle tips at www.rewardme.in
Till Next Time…take care…xoxo.