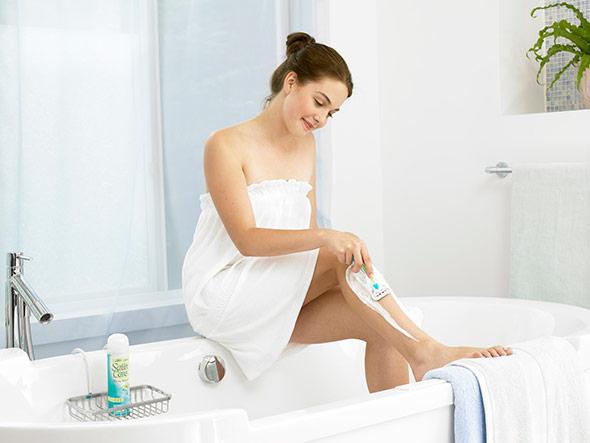 Almost all of us wish we had more volume and thickness, when it comes to the hair on our heads, but body hair is just as undesirable. Anyone who has had to endure tortuous hair removal procedures to get rid of unwanted hair on any part of the body is well aware of how frustrating and painful the process can be, especially in the winter season.
Hair removal is a matter of personal hygiene and beauty for many that simply cannot be avoided. In the winter season, hair removal procedures tend to be a lot more painful, as the skin tends to get really sensitive and dry. But every problem comes with not just one, but many solutions. In the case of hair removal, there are numerous hair removal tips for winter that will spare you pain and discomfort, while also saving precious time and money.
When you are using any homemade methods and procedures, use these tips for hair removal at home:
The area that has been treated with procedures like waxing or shaving should be washed and cleansed properly post-treatment.
The best way to figure out which home remedy will work for you is by trying out a few alternatives. Without trying out new methods it will be impossible to determine the efficacy of any procedure.
Patience is the key. Natural methods of hair removal take longer than chemical treatments, so it's important to give it some time before you see positive outcomes.
Home Remedies for Hair Removal in Winter
There are many effective and simple home remedies that make the unwanted hair removal process a lot easier. Here are some tips for hair removal at home:
1. Lemon Juice and Honey
This mask is quite effective for the removal of body hair as it plucks the hair completely from the root and stops the growth for a while. What is great about honey is that it has superb hydrating and moisturizing properties that make your skin smooth and soft, while lemon juice does the job of making your pores tighter, cleansing the skin thoroughly and making hair less visible. The anti-bacterial and soothing properties of these ingredients will also reduce pain and irritation.
2. Lentil and Potatoes
This is one of the best remedies to soothe the skin and make hair removal in the winter a lot easier and less painful. This invaluable home remedy has bleaching properties in it which help in making the color of your hair lighter. And it also helps in permanently getting rid of undesirable hair.
3. Onion and Basil
Onion and basil paste might seem like an unusual combination, but this strangely wonderful and truly useful home remedy can help in the removal of unwanted hair. It is the thin and wispy transparent membranes that are found between onion layers that do the job for you. Use this paste for a month to see visible results.
4. Raw Papaya Pulp and Turmeric Powder
There is an active stimulant found in raw papayas, papain, that helps in removing unwanted hair completely. It also acts as a gentle exfoliate during winter, when skin tends to get very sensitive. This all-natural home remedy has proven to be the most effective with absolutely no side effects whatsoever.
These hair removal tips will surely work in your favor and provide you with some much needed relief from the irritation of unwanted hair.
Now that you know how to get rid of body hair during winter, also check out these 15 winter beauty tips to be on top of your beauty game all through the season at www.rewardme.in!
P.S. Sponsored Post.